Replacing A-ads Ads
this time I will post how or steps a-ads.com advertisements on blog / website, but before I reiterate once again.
The first would be nice if you do not put too many ads on a-ads.com because it certainly will make an appearance blog / website to be full or not neat, attach ads on blog / website you are naturally so that visitors blog / website you endure.
Both do not have one, to click on ads a-ads.com on blog / website yourself because it raises the risk of a ban on the account-your ads.
Third optimize your blog / website first so coffers bitcoin you get bigger
,
okay immediately to the topic of discussion a-ads.com I put an ad on a blog / website, how pretty simple
1. Get a-ads.com ad script used in HERE
2. Then select "Earn Money" and enter a link blog / website like this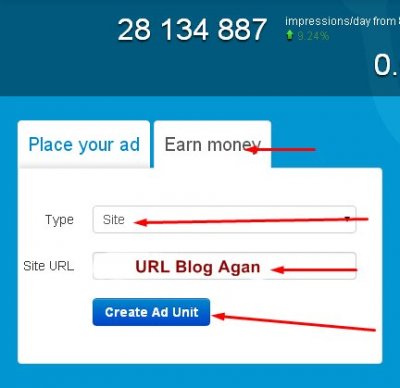 3. After Click Create Ad Unit please enter your existing code. This step is necessary and if you prove that real human beings are not robots, or tool.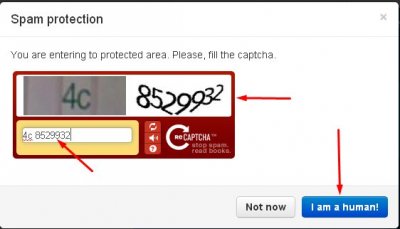 4. Check all Filter ads and in Categories, select Bitcoin and check the 3 options like this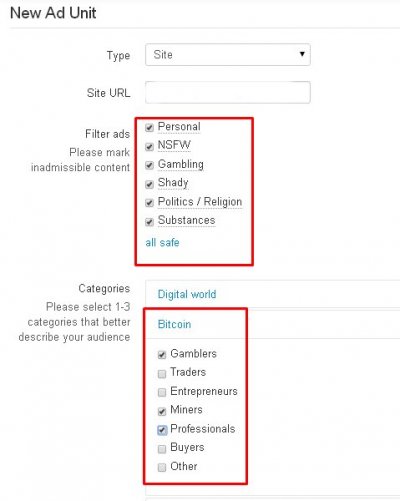 5. Enter the address wallet / purse Bitcoin agan and click Create Unit like this

6. Copy Script a-ads.com ads to put in your Blog / Website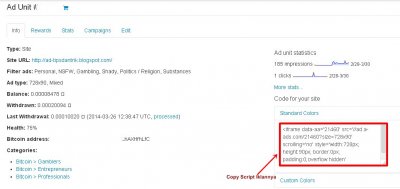 7. Then log your blog that you want to advertise a-ads.com
8. After login as usual Select the layout of the added gadgets >> >> >> paste select Java script in the ad script copied >> save and finish. you can place ads according to your choice.
9. Page a-ads.com was not in close before, now to check your bitcoin income statistics, please Search code unit, (save it in notepad and do not forget). What I kotakin it got me.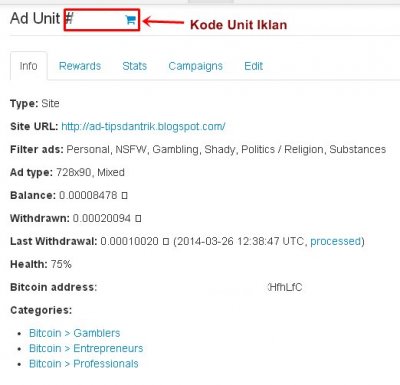 And after all the survivors you will get a lot of free bitcoin will flow into your wallet every day. May be useful